Visit the new Columbia Performing Arts Center website now at
The Columbia Performing Arts Center (CPAC) offers a curriculum for ages three and up including instruction of Ballet, Jazz, Tap, Hip Hop and Children's Programs.  Currently, the facility is undergoing an expansion. An east wing will be under construction until Spring of 2014. The new wing will include 4 new studios, a dancewear boutique, a student break room, and an expanded lobby area.  All that change also brought the desire to redo their website in a technology that is easy to use and mobile-device friendly.  Enter Delta Systems and WordPress.
Delta was tasked with porting the old, all Adobe Flash-based website into something more manageable that could be viewed on phones and tablets. We were also requested to make it much easier for the CPAC staff to add/update photo galleries, maintain a staff listing,  integrated online schedule management, and page/content updates without having to call us.  Here is a detailed description of what we did:

Multiple Image Carousels
Independent image carousel controls allows the administrator to enable or disable carousels on a per-page basis and include as many images as the design will allow for.
Fully Widget-ized Theme
Everything from the lower homepage calls to action to the independent sidebars on the various subpages allow the both the layout and content to be easily controlled via WordPress. As an added benefit, pages currently without sidebars can easily have them added with no additional programming or layout adjustments needed.
Highly Customized Online Schedule Management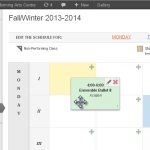 Designed to mimic the layout and content of existing paper schedules, this utility allows for easy navigation and management of multiple schedules. Management includes days of the week to be used, studios to be used, color coding, custom class option setting, and a drag-and-drop administrative interface.
Multi-tiered and Multifaceted Photo Gallery
The photo gallery is built to allow a number of levels of organization for ease of navigation and layout and has also been customized to allow cross post linking to tagged images as seen on the Graduating Seniors page. Also notice that many images appear rotated and attached using a paperclip.  These image tweaks are done by applying CSS to the image when it is displayed to the viewer. The staff can simply upload a 'normal' photo and our system takes care of the rest.
Staff and Graduating Senior Management
These custom post types create flexibility without compromising design and make it easy for CPAC to manage more of their own pictures, people, and content without having to call Delta to manipulate images or adjust page layouts when new content is added. View an example of how editable a custom post type can be.
We made a video walk-through of the administrative side of the site. Do you want to see it?  Give us a call and we'd be happy to share.