The Columbia Missourian needed to get some recent election results up on their website quickly. Their interactive maps were looking great. All elections and propositions were laid out by precinct. Now they just had to wait for election day and the results to come rolling in.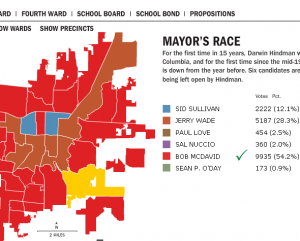 The only problem was how to get that pile of data from an Excel spreadsheet into the website.
Delta Systems was able to quickly build an XLS to XML converter that allows the reporters to import new XLS files as quickly as they receive them.
The result speaks for itself but the reporters chimed in too. . .
"The xml generator worked like a charm. It was kind of magical to watch this thing come to life when we dropped our data in the folder. You helped us out a great deal and I just wanted to say thanks once again."  -Chris Canipe