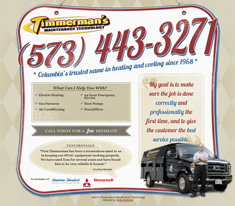 This week, Delta Systems launched our first site utilizing the newest features in WordPress 3.0. The lucky recipient was a local Columbia heating & cooling company called Timmerman's Maintenance Technology.
Tom Timmerman needed a simple site showing his phone number, a list of services, and a few customer testimonials. Delta Systems, working along with local media group Boxcar Films, gave him a fresh and fun design that did exactly that.
Not being overly experienced in web development and content management systems, Tom also wanted to ensure that he would be able to update his services list and insert new testimonials with ease. That's where the new WordPress custom post type feature came into play.
Delta Knows WordPress 3.0 Custom-Post Types
Using custom-tailored forms, Tom can now add, change, or remove items from his list of services with 2 clicks of the mouse. And when a customer pays him a compliment, he can just as easily add a testimonial to the page in the same way.   Either way, the output is instantly styled and published to his homepage, making this one of our most user-friendly content management experiences to date.
Need something done? Just Call Delta
Delta Systems is a full-service computer consulting company with a suite of development, design, and computer network support talent.
Building online applications and data management systems that are intuitive yet powerful is our specialty.
Do we build simple websites too? You bet. And we do it well using WordPress, Drupal, Expression Engine, and custom solutions.
We also have experts in Microsoft Access Development, EXE development, product commercialization, training on all major software, and more.
Give us a call and find out why over 800 companies have trusted Delta Systems with their networking, web, and programming needs since 1986. Ask around.
You'll hear people say, "Just call Delta" so much that we made it our website – http://JustCallDelta.com