Each year, ForColumbia gathers volunteers from across Columbia, Missouri to serve individuals and nonprofits in a city-wide day of service. In 2017, the team came to Delta Systems for a new marketing site and took advantage of our DoGooder volunteer management system to direct over 1,800 volunteers.  When it came to tracking volunteers and organizing volunteer teams, it was a game changer. In 2018, DoGooder did its part again to handle volunteer tracking for over 2,000 volunteers.
Volunteer Team Management and Communication is Key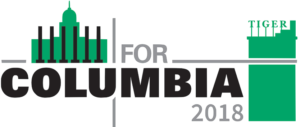 2018 was the fourth year for ForColumbia. 52 churches have participated at least once in this effort, including 8 congregations that have partnered with them every year since 2015. In 2018, #ForColumbia2018 brought more than 2,000 volunteers from these churches, and more, to serve at well over 100 locations in the community. Volunteer communication and volunteer coordination between dozens of team leaders and site coordinators with their volunteer armies was paramount.
DoGooder is incredible. It's taken us to a whole new level, in that it has given us the ability to manage thousands of people, with their different availabilities, preferences and skills, and match them to the needs we have at over 80 different serving sites, and then to communicate with all those people in whatever configuration is needed.

It was as easy to send out an email to 2,000 people as it was to communicate to a team of 12 individuals. We were able to both tailor a message to small groups as well as stay well in touch with all of our 2,000+ volunteers. And then of course the speedy support the team provides is amazing.

We're very grateful for DoGooder.

—Shelly Mayer, ForColumbia organizer and volunteer


Ridiculously Simple Volunteer Management System for Organizations Big & Small
The DoGooder Volunteer Management System is helping connect thousands of volunteers with causes and events they love. If you are a volunteer coordinator (or help choose the volunteer management solution) let's schedule a time to share stories and see show how DoGooder can help volunteer management be more gooder.
Some Advantages of Managing Volunteers with DoGooder:
Accept Applications
Create and receive submissions from online application forms for potential volunteers.
Painless Scheduling
DoGooder lets you design your own volunteer schedules with ease, and emails them out when ready.
Volunteer Team Assignment Done Right
Know who is overbooked or underutilized right on the screen where you're assigning volunteers to shifts.
Constant communication
Send emails out to all or a select few of your volunteers to make sure everyone is always on the same page.
Detailed Reporting
Print out detailed reports with include hours worked, volunteer status, check-in times, contact information and more.
Volunteer Team Management
Group your volunteers into teams for easier organization. Assign Team Leaders so everyone knows who to report to.
Multiple Volunteer Tracking Levels
Most volunteers may be able to work 4 to 8 hours. Others will want to be available for the entire weekend at any time.
Browser-based
Nothing to install or maintain. Works everywhere internet is available.
And more! Try DoGooder today
---
All Things Web for Charities & Nonprofits
Delta Systems is an award winning company of web experts that create powerful and compelling charity & nonprofit design and development projects from start to finish. Let us help spread your mission by designing and building websites and applications that engage volunteers and donors.