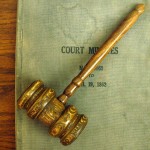 The Tiger Quarterback Club asked Delta Systems to help with getting the word out about their sports memorabilia auction going on during their annual Black & Gold Golf Tournament.
Delta helped out by quickly adding forms and items to their WordPress system to allow online bidding during the silent auction. A representative onsite would be notified of the bids coming in from TigerQBClub.com/auction and can quickly coordinate virtual bids with those being made onsite at The Club at Old Hawthorne. With the assistance of the general public bidding on items via the website, the online auction system was a great success and netted several thousand dollars for the Tiger QB Club.
Update: This was the BEST auction results the group has ever attained. Online bids were rolling in even before golfers were getting off the course. Several fevered bidding wars erupted as people onsite sat perched, ready to place higher bids, waiting for online bidders to strike.
Some of the items included in the auction were
Brad Smith #16 New York Jets Jersey Donated by TQBC
Jeremy Maclin #18 Philadelphia Eagles Jersey Donated by TQBC
Chase Daniel #10 New Orleans Saints Jersey Donated by TQBC
Blaine Gabbert #11 University of Missouri Jersey Donated by TQBC
Swing Analysis Donated by Golf Tech
6 Suite Tickets to Cardinals All Inclusive, parking pass, $1500 value Donated by Huntley-McGhee
Smokehouse Sampler Donated by Burgers Smokehouse
Timeless Treasure Gift Pack Donated by Burgers Smokehouse
1953 Bowman Stan Musial Baseball Card – Autographed Donated by Bill Carner
$25 Gift Card to Macaroni Grill and 2 Tickets to Ragtag Cinema Donated by Cindy Sheltmire
Weekend Rental of Harley-Davidson Motorcycle Donated by Mid America Harley- Davidson
Carl Edwards Autographed Car Donated by Carl Edwards
Overnight Stay and Breakfast for Two Donated by Courtyard by Marriott
Sterling Silver Hand Crafted Tiger Head Necklace Donated by Sturhahn Jewelers
Tiger Blanket Donated by John Pile
White Knight 10 Passenger Limo Ride for 4 hour block Donated by White Knight Limousine
MU/OU Autographed Coach Pinkel Print from 2010 Season Donated by TQBC
$25 Gift Card to D'Rowes and 1 Year Power Mizzou Subscription Donated by D'Rowes and Gabe DeArmond
$25 Gift Card and 1 Year Power Mizzou Subscription Donated by D'Rowes and Gabe DeArmond
Coach Gary Pinkel Autographed Football Donated by TQBC
Gus Otto Autographed Football Donated by TQBC
Roger Wehrli Autographed Football Donated by TQBC
Johnny Roland Autographed Football Donated by TQBC
Tony Temple Autographed Football Donated by TQBC
Chase Coffman Autographed Football Donated by TQBC
Coach John Kadlec Autographed Football Donated by TQBC
Need an online auction system? Just Call Delta
Delta Systems is a full-service computer consulting company with a suite of web development, web design, and computer network support talent.
Building online applications and data management systems that are intuitive yet powerful is our specialty.
Do we build simple websites too? You bet. And we do it well using WordPress, Drupal, Expression Engine, and custom solutions.
We also have experts in Microsoft Access Development, EXE development, product commercialization, training on all major software, and more.
Give us a call and find out why over 800 companies have trusted Delta Systems with their networking, web, and programming needs since 1986. Ask around.
You'll hear people say, "Just call Delta" so much that we made it our website – http://JustCallDelta.com