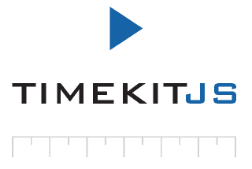 A team consisting of several Delta Systems and Veterans United developers took 4th place at the 2013 Columbia Startup Weekend competition.
The idea of TimeKitJS was developed and presented.
TimeKit is a JavaScript library that makes it easy to synchronize a video with changes to your HTML and CSS. TimeKit reads simple data attributes in your HTML and uses them to trigger changes to your CSS when a video reaches a certain point in time. This allows designers to create interactive video experiences for the web that previously required working with a skilled JavaScript developer.
Need an example?
TimeKitJS Video Gallery: Use Case: Product Demo Video
Benefits of using TimeKit
Post-Production Time Savings
Do your post production work in HTML and CSS not a video editor that will flatten everything out and make it invisible to Google
Regionalization
Easily serve text and image overlays depending on where your visitor is coming from. Perhaps your video is in English, but you have different product labeling in Canada, the UK, Australia, and the United States
SEO Benefits
Add Microdata, Clickable Links, put and move text anywhere at any point in time on the video
Analytics
Know how many video views and know how long each viewer watched the video
Keep Viewers on Your Site
Your video may be on vimeo or youtube, but the TimeKit features will only show on your site. Encourage sharing to get traffic and views to your page, not your YouTube channel.
Why not use Popcorn.js?
Currently to build this Frontline video using Popcorn.js you'd have to have a JavaScript ninja write these 600 lines of JavaScript.
Popcorn.js was being called "the next big thing in Internet video" in articles by Wired and Fast Company.
We think TimeKit.js just antiquated all that.
We received this summary from the organizers and thought we'd share it again here:
Information on the 2013 Columbia Startup Weekend:
130 Participants
50% student
34 female participants (almost tripling the previous year)
72 non-technical/38 developers/20 designers
35 Pitches on Friday night
19 Teams (Final Presentations)
10 Organizers
25 Mentors
32 Sponsors
Want to see the Pitch or Final Presentation?!
Here is the recording:  http://www.ustream.tv/channel/startup-weekend-como
Startup Weekend in the news
http://www.columbiatribune.com/news/local/startup-weekend-makes-connections-as-teams-build-business-ideas/article_0317f088-1dc4-11e3-bf5e-10604b9f6eda.html

http://www.siliconprairienews.com/2013/09/join-past-winners-first-timers-for-columbia-third-startup-weekend
http://www.siliconprairienews.com/2013/09/nudge-has-the-right-touch-takes-top-prize-at-startup-weekend-columbia?utm_campaign=&utm_medium=spne.ws-other&utm_source=t.co&utm_content=api
http://www.komu.com/news/local-entreprenuers-start-businesses-in-54-hours/
http://missouribusinessalert.com/entrepreneurs/34752/2013/09/13/whirlwind-startup-weekends-serve-as-springboards-for-missouri-entrepreneurs/
http://m.columbiatribune.com/news/local/startup-weekend-rewards-top-brainstormers/article_f7227f6c-1efb-11e3-af91-10604b9f6eda.html 
Please note that Columbia Tribune, KOMU, and Missouri Business Alert are all Delta Systems customers.
Stay Connected
Follow on Facebook [https://www.facebook.com/startupweekendcolumbia]
Follow on Twitter [@SWColumbia, #swcomo]
Follow the teams on social media (http://columbia.startupweekend.org/2013/09/17/columbia-startup-weekend-wrap-up/)
Join a group like dev.como (www.devcomo.com) or Girls in Tech (https://www.facebook.com/GirlsInTechMidMO)